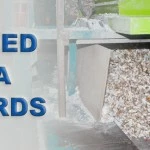 Working with our paper shredding company in Cheadle helps eliminate the hassles of disposing of confidential documents.
The UK data protection regulations require companies to prevent unauthorised access to personal data in their custody. Security lapses in personal data protection results in identity theft, fraud and several cyber crimes. Since several companies need your data for various reasons, they must adhere to the regulations on the safe acquisition, management and disposal of your data. Shredding is one of the most effective ways to destroy paper documents. We shred and recycle all the waste paper you bring us.
We have a simple yet tamperproof waste paper collection and disposal process. In Cheadle, our paper shredding company provides high-quality recyclable shred sacks where you can load your waste paper. You can buy our shred sacks online depending on the volume of waste paper you wish to destroy. Each shred sack holds up to 20kg of paper and opens into a 480mm X 640mm X 140mm sack. The price for the shred sack includes delivery, P&P and VAT. We deliver the shred sack to your desired address within two working days of paying for the order. Once full, you can seal the sack and call us to collect it at no extra charge. We shred the sack and its contents directly without opening it to guarantee discretion. Once your shred sack is shredded, we send you a certificate of destruction.
 Our paper shredding company in Cheadle recycles 99.9% of the material we shred. Our approach is good for the environment, reduces our waste disposal logistics and guarantees the destruction of your documents. We are flexible and always ready to modify our collection services to suit your schedule. Hence, we serve several clients, from small domestic households to large commercial companies. Contact Ministry of Shred today if you need specialised shredding services. We help companies safely eliminate confidential waste in an eco-friendly yet cost-effective method.