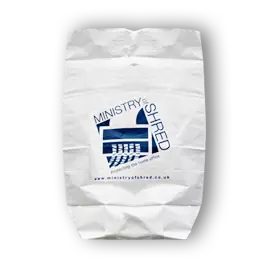 The Shred Sack was the first, and is still the most popular product we offer for home office security. The recyclable 20kg Sack is perfect for the disposal your paper files.
Exceptionally strong recycled bag
Flat-packed and opens out to 480mm X 640mm X 140mm
Holds up to 20kg.
Ideal for bottom draw clean-outs
Secure, Convenient
Delivered to your door within 2 working days
Over 99.9 % of your material we shred is recycled
Package price includes delivery, P &P, and VAT, you just need to fill the sack and bring it back!
For a list of what can and cannot go in the bag and other FAQ's, please click here.
Sack & P&P: £7.00 inc VAT
Sack & collection…. to"Sack and collection package please call for further information on 07969873097