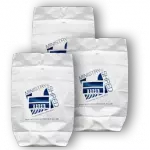 Our confidential shredding in Knutsford is efficient and safe. As such, you can ensure your clients' information remains safe. Statistics show that over 100,000 people were victims of ID fraud in the UK. In addition, ID fraud is on the rise. Now, more than ever, it is essential to keep your own and your clients' private information safe. We are pleased to offer confidential shredding services that will meet your exact requirements. As such, our services ensure that your old documents are securely and thoroughly shredded. All shredding is done according to the BSIA's standards. Our high-capacity shredding machines are fast and efficient. You can be secure in the knowledge that all your file disposal is legally compliant.
Every business, regardless of its size, must abide by the Data Protection Act. Hence, in Knutsford, confidential shredding is essential for your home office. It is a straightforward procedure. First, purchase a shred sack online. These are available in 3 convenient sizes. Then, fill the bag with all your unwanted documents and secure it with the tag. After this, you can give us a call to arrange for a collection. Our staff member will show his identification tag on arrival to collect your sack. Your security tag code is confirmed and then your sack is transported to our secure shredding facility. Your documents, including the shred sack, are placed in our shredding machine and completely shredded.  Your shred sack is never opened once you have sealed it. Once the shredding is complete, we will email a certificate of destruction to you.
Ensure your clients' personal information remains safe with our professional confidential shredding in Knutsford. If you require a more regular collection service, please let us know. We are happy to tailor our services to meet your specific requirements. If you have unwanted paper that needs to be stored between collections, we can assist. We can provide a choice of different secure cabinets to meet your specific requirements. Contact Ministry of Shred today for excellent quality confidential shredding services. You can have peace of mind knowing that your clients' personal information is safe.