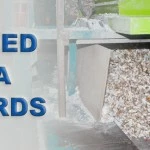 Keeping confidential information private is easier with our mobile document shredding in Stretford.
Identity fraud is a rampart challenge in the UK today. Statistics show that over 100,000 people were victims of ID fraud last year. Also, recent estimates show that ID fraud costs the UK economy about £ 3 billion annually. With such scary statistics, you should take safety measures to protect yourself, your family, staff and clients from identity fraud. The most common data source for fraudsters is the acquisition of personal information from business documents. The UK Data Protection Act 1998 requires companies to handle and protect their client's personal data. It also requires the safe destruction of documents the company no longer needs.
Instead of disposing of sensitive documents in landfills, it is best to destroy them and recycle the paper. In Stretford, our mobile document shredding service collects the waste paper from your preferred location. Our process begins when you call us or apply for our services online. Once you define the amount and type of paper you need to destroy we can send you the appropriate size and number of shred sacks. Our shred sacks are robust paper bags made from recycled material. Each shred sack can hold up to 20kg of waste paper. Once full, you can seal the shred sack and then call us to collect it for disposal. We dispose of the shred sack and its contents in our heavy-duty shredders then recycle the waste into new paper products.
Our mobile document shredding in Stretford is a highly efficient disposal service where 99.9% of your waste paper is recycled. Recycling is good for the environment as it reduces waste and saves trees. Through our operations, we save 14 trees for every tonne of paper we recycle. If you are environmentally conscious and would like to destroy your waste paper safely, contact Ministry of Shred now. We can come to your home or office to collect the waste paper when you are ready to dispose of it.