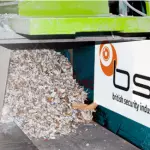 Our experts provide secure shredding in Hyde to ensure your clients' safety. In today's world, security is highly important. Safety and security usually make one think of physical safety along with burglar alarms and the like. However, there is another security and safety issue that is just as important. Confidential information is confidential for a reason. Falling victim to identity theft and fraud is an awful situation. This is even worse if it is one of your clients. The consequences for your business will be dire. As such, it is essential to maintain the safety of your clients – past and present. Even if your clients have moved on, you still have an obligation to ensure their personal information is secure. One of the best ways to make this happen is by shredding old, unnecessary documentation.
Tearing in two and tossing away is not a secure option. Hence, in Hyde, secure shredding is a service we take great pride in offering. All the documents we shred on your behalf are done so with our high capacity shredding machine. The entire process is safe and secure. Your old documents are placed in a shred sack and then sealed with a security tag. These are available to purchase from us online. When your shred sack is full, our expert will collect it from you and take it to our shredding facility. Even this process is secure. Our expert will identify himself when he collects your sack. The sack is placed in the shredding machine without ever being opened.
Secure shredding in Hyde is what we offer. All the paper we collect from you is securely shredded. In addition, you will receive a certificate of destruction as your evidence of correct procedures. Furthermore, all shredded paper is recycled into reusable paper products. This is an excellent solution. Contact Ministry of Shred and find out more about our secure shredding service. You will have peace of mind knowing that your clients' information is safe from potential thieves. Furthermore, you will also be doing your part for the environment. Our secure shredding service is a top solution for all home businesses.