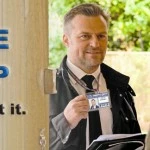 If you want to destroy confidential documents or clear your home office, consider our home shredding service in Stretford.
Identity theft has become a rampant challenge in the UK and across the globe today. Statistics show that Identity fraud costs the UK economy about £3 billion annually and victimised about 100,000 people last year. Since criminals keep getting smarter, you should consider upgrading your document disposal methods. Standard home shredders take a lot of time to destroy documents. It is estimated that a domestic shredder takes eight hours to shred the same documents a commercial machine could handle in one hour. Increase your efficiency by outsourcing your confidential shredding tasks to a specialised service provider.
Specialised service providers invest in unique solutions that save you time and money. In Stretford, our home shredding service is uniquely designed to take the weight off your shoulders. We can summarise our service into three easy steps, these are, Order, Fill and Shred. Once you select and order your preferred shred sack, we will deliver it to your preferred address. All you need to do is fill the sack, and securely seal it with the provided security tag. When you are ready, we will collect, shred and recycle your shred sack without ever opening it. Our drivers carry personal identification badges for verification before collection, and our vehicles all have trackers to monitor their movements.
We go to great lengths to ensure our home shredding service in Stretford is tamperproof. We will recycle your documents into new paper products once shredded. Statistics show that recycling one tonne of printable paper saves two tons of wood. We believe that our service helps to protect trees and conserve the natural environment. Contact Ministry of Shred today, if you need our home shredding services. Our document disposal service adheres to the British Security Industry Association standard EN15713, which provides guidelines for the management, collection control, transportation and destruction of confidential material. Once shredded, we will email you a certificate of destruction of your documents.