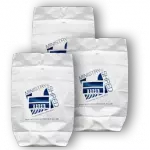 Mobile shredding in Stockport is a type of document destruction service that provides on-site shredding of sensitive or confidential documents. Thus, mobile shredding services typically offer a range of shredding options. This includes everything from one-time purges of accumulated documents to regularly scheduled shredding of ongoing document streams.  They may also provide secure storage containers for customers to store their documents prior to shredding. Mobile shredding services are commonly used by businesses, government agencies, and other organisations that handle sensitive or confidential information.
Curious about how, in Stockport, our mobile shredding service works? Let's go over a step-by-step guide. To begin, order your security sack on our website using the secure PayPal payment system. Once you've placed your order, we'll promptly send you the security sack and tag. Fill the sack up to the designated fill level line. Seal the sack securely using the provided security tag. Our bags are shredded and recycled, so you can rest assured that your contents will never be accessed. Book your collection by either calling us or booking online. Our team is always happy to discuss your requirements. Our drivers will arrive at your collection address and provide proof of identity. All of our staff members undergo security screening in accordance with British Standards.
We'll confirm your security tag code and take your sack to our security collection truck when mobile shredding in Stockport. All our trucks are fitted with tracking technology to ensure secure transportation. Upon arrival at our secure shredding facility, the truck will be backed up directly into the processing plant. Your sack will be unloaded, checked against your order, and shredded without anyone opening it. Your documents will be shredded to the British Security Industry Association standard EN15713. The standard presents guidelines for the management, control of collection, transportation, and destruction of confidential material. Once your documents have been shredded, we'll email you a certificate confirming their destruction. Contact us today for more information. We aim to provide our clients with a secure and reliable service.