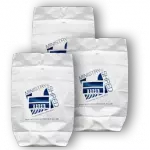 Our home shredding service in Bolton can ensure your business' reputation remains intact. Identity theft and fraud affect many people each year. These types of crimes are also on the rise. Criminals find it easy to gain personal, important information about people by digging through rubbish bins. Many people merely tear important documents in half and throw them in the bin. This makes for easy pickings for any criminal rooting through the trash. Using our home shredding service is an excellent way to avoid potential identity theft. Purchase a secure shred sack online from us. Fill it with the discarded documents.  Once the bag is full seal it and contact us and we will send one of our employees to collect it.
When you need to be assured of confidentiality in Bolton, our home shredding service ensures that your clients' private information never gets into the hands of criminals. We will send a uniformed collection officer to your door and he will identify himself. Once the bag is in the truck it is tracked all the way to our secure shredding facility. Here it is offloaded and placed onto a conveyor belt.  The bag is never opened and while still sealed it goes into the industrial shredder. The shredder ensures that the documents are completely shredded. It is mixed with thousands of other document scraps and sent to a paper mill where it is turned into new paper products.
We offer a secure home shredding service in Bolton. Our services can bring you peace of mind knowing that your clients' important information has been effectively destroyed. Contact Ministry of Shred today and arrange for our secure home shredding service. We can also provide a certificate of destruction once all the documents have been shredded. Identity theft and fraud is on the rise. Do your part to ensure that it doesn't happen to you, or your clients. Our home shredding service is affordable, completely reliable and secure and efficient. It will save you time, money and keep your business reputation intact.