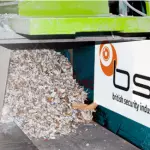 Secure document shredding in Cheadle is necessary to keep your clients' important information safe. Regardless of the size of your business, you have to keep certain documents for a certain number of years. Once this time has elapsed, they can be destroyed. However, it is essential that this is done correctly. If you don't have the time or manpower to ensure an effective destruction process, you can rely on the services of a professional shredding company. We offer an expert document shredding service that meets your needs. The process includes the collection of the old documents from your home office. These are transported to our shredding facility and effectively destroyed
It makes perfect sense to use the services of a professional shredding company. In Cheadle, secure document shredding couldn't be easier. First of all, order your shred sacks online. These sacks are used to contain your old documents. Hen the shred sack is full, simply give us a call to arrange for a collection. The shred sacks are transported to our facility and completely shredded. It is an easy and convenient process. Best of all, it is entirely safe. Each shred sack fed into our shredding machine is completely shredded, sack and all its contents. The bag is never opened once you have sealed it. Shredding your old documents is one of the most effective methods of secure destruction.
Secure document shredding in Cheadle brings you peace of mind. Our unified team member will arrive at the address you provide, show you our proof of identity, and confirm your security tag code. Then, we load your sack into our GPS tracked security truck and take it back to our shredding facility. Once it arrives, the sack is unloaded into the shredding machine and shredded. For more details about our convenient and safe mobile document shredding service, contact Ministry of Shred. Once the process is complete,  you'll receive documents that state that your old documents were shredded in accordance with the British Security Industry Association Standard EN15713.