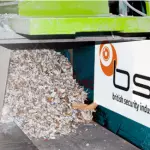 Secure document shredding in Hyde is made easy with Ministry of Shred. We offer a shredding service that is tailored to you. We will meet your requirements no matter how small or large your shredding needs are. Our shredding facility is purpose-built to destroy and dispose of documents securely. We have security methods in place to insure that from the moment of collection to the last document being shredded, your documents are completely secure with us. We are part of the Elsa group, which has been established for over 50 years, and we have many years of experience with handling confidential waste. Simply tearing up your documents and tossing them in the bin is not enough.
For our clients in Hyde, secure document shredding is effectively completed by our competent team. We not only destroy your documents, but also give you peace of mind. Moreover, we issue a certificate of destruction once documents are properly disposed of. Additionally, we have measures and processes in place to ensure that your confidential waste is properly handled and securely destroyed. We provide locked storage cabinets for you to safely store your confidential waste. You can arrange for collections to be made at regular times that are convenient for you. From there, your confidential waste is safely transported to our facility where it is shredded and disposed of or recycled.
We aim to make secure document shredding in Hyde as convenient and stress-free as possible for you. For more details about our range of services, contact Ministry of Shred today. We will explain our process and answer any questions you may have. Our staff is highly trained, professional, and friendly. Customer satisfaction is a driving goal for us, and we aim to cater to any document shredding requirements. Choose our team to ensure that your documents are disposed of in a confidential, secure, and safe manner. Moreover, you can count on us.