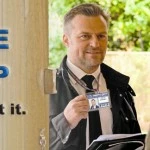 A home shredding service in Bramhall will provide the reassurance that your personal information is safe. We know that identify theft and fraud are on the rise. Make sure this doesn't happen to you. You also need to ensure that clients' personal data is safe. The best way to do this is to make use of a home shredding service. Choose a company with a great reputation and provides the secure services you need. We can help. As such, we offer a home shredding service that is highly professional. Our service is both safe and convenient, and you'll have peace of mind knowing that your information is safe from theft.
There are some documents that must be kept for a certain amount of time. In Bramhall, a home shedding service effectively destroys these documents when they are no longer needed. Our process is easy to follow. Simply, purchase your shred sack online. When you receive it, fill it with the unwanted documents. Seal it with the identity tag and then give us a ring and schedule a collection. Our uniformed team member will present his ID on arrival, and then take your sack to our shredding facility. Here, it is placed in our high density shredding machine where the entire sack is thoroughly shredded, bag and all. On top of that, we will also send you a certificate of destruction as your proof of a job well done.
A home shredding service in Bramhall is both a convenient and affordable option. When your shred sack is full, we'll collect it from you at a time that best suits you. Moreover, we also have different sizes of shred sacks. If you have a large number of documents to be shredded, we can assist. For more details about our home shredding service, contact Ministry of Shred today. Our services ensure that you are keeping your clients' information safe. You'll also know that it is effective and professional. Moreover, all the shredded documents are recycled to usable tissue products.