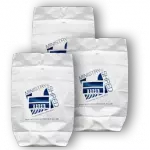 A confidential shredding service in Chelford is the next step in securing your clients' personal information. The statistics of ID fraud are on the rise. In fact, it was reported that over 100,000 people were victims of ID fraud in the UK last year. To assist you in keeping your clients' as well as your own personal information safe, we offer a confidential shredding service that ticks all the right boxes. When you use our services, you will have peace of mind that your old documents are securely and thoroughly shredded. This is completed to the BSIA standards. Our high capacity shredding machines will do in just seconds what your office shredder would usually take 8 hours to do. Furthermore, we have tight security measures that do not compromise the security of your documents.
For your home office in Chelford, a confidential shredding service is a must. The first step is to purchase a shred sack online. The sacks are available in 3 convenient sizes. They will be delivered to your doorstep, along with a security tag. Fill the bag with all the old documents you no longer need and secure it with the tag and arrange for a collection. Our staff member will show his identification tag so you know who is collecting your shred sack. Each member of our team is screened to British standards. Your security tag code is confirmed and then your sack is transported to our secure shredding facility. Here, your old documents, bag and all, are completely shredded.  Your shred sack is never opened once you have sealed it. Once the shredding is complete, we will email a certificate of destruction to you.
A confidential shredding service in Chelford is an excellent way to ensure your clients' confidentiality. We also understand the importance of recycling. Our policy has always included fully recycling cardboard and paper with a completed audit trail. As such, many of the materials we recycle are turned back into usable products. Contact Ministry of Shred today for excellent quality confidential shredding services and we will never let you down. If you require a more regular collection service, please let us know. We are happy to tailor our services to meet your specific requirements.