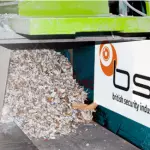 Try our paper shredding service in Stockport if you need to destroy documents with personal information. Paper shredding ensures all the data in your documents are destroyed. Shredding paper in bulk minimises the risk of someone reconstructing the files to extract information. Paper shredding is gaining popularity due to a rise in identity fraud cases. The UK economy loses up to £3 billion every year due to identity fraud. Poor disposal of personal documents leaves you vulnerable to identity predators. Using a reputable paper shredding service saves you time and resources. Industrial shredders can handle large volumes of documents in a short time. Shredding companies that comply with industry standards can destroy and dispose of your documents effectively.
Our company runs a highly effective document shredding and disposal service. In Stockport, our paper shredding service complies with the highest standards in the industry. We provide each client with security shred sacks to suit their disposal needs. Our sacks are 20 kg bags with security seals and tags for identification. Each bag, once filled is shredded without being opened to secure your privacy. Our security bags are made from recycled material. These bags provide the most convenient way to manage your waste. All you need to do is fill the security sack. We can deliver and collect the bag from any location you choose. Our staff will produce their proof of identity when collecting the security bag from you.
Our paper shredding service in Stockport satisfies the British Security Industry Association (BSIA) standards. We adhere to the BSIA's strict guidelines for collection control, transportation, management and the final destruction of confidential material. On completion, you receive a certificate of destruction for confirmation. As part of our services, we recycle 99.9% of the waste we shred. Recycling ensures the destruction of your confidential waste and helps to save the environment. We save about 14 trees for every ton of shredded paper we recycle. Call Ministry of Shred today if you would like to find out more about our paper shredding services. We are available six days a week to answer your requests.