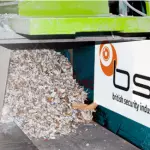 Contact the leading paper shredding company in Macclesfield for secure and reliable services. At Ministry of Shred, we completely understand the risks that our customers face if their private data gets compromised. We provide top quality, secure collection, shredding and disposal services for both domestic and commercial clients. We have several years' experience in this sector and also the right information, technology and equipment for the job. As one of the leading firms in this region, we can give you the best price quotes while ensuring excellent quality. The best practices in this industry are based on these important aspects: Shred regularly, shred everything before you recycle, use a professional shredding service rather than rely on DIY.
For clients in Macclesfield, paper shredding company services are an essential part of protecting your business too. According to the Data Protection Act, business owners are required to protect personal information. Failing this, you could face heavy fines and penalties. Today, the problem of identity theft, financial fraud, breach of privacy, theft of intellectual property and patents has reached huge proportions. Fraudsters have developed more sophisticated and consistent methods to steal data that can be useful to them. This includes something as simple as an invoice that contains your full name, address and phone number to confidential data that deals with plans, branding, and healthcare information. Information regarding your company, or your family, customers and suppliers can be used against you. Bank statements, old cheque stubs, pension records, blueprints and taxation papers can be rich sources of information.
A professional paper shredding company in Macclesfield can help you to prevent these identity theft and similar problems. Another big advantage is that you can free up valuable space in your premises. Boxes, documents, files and ledgers that are not relevant use of storage space. Secure shredding helps your premises remain neat, clutter-free, fresh and hygienic. Contact Ministry of Shred for more details on our paper shredding company. You can set up a safe storage area with sealed bags, closed skips or lockable cabinets for collection. Apart from material damage, breach of privacy can also cause immense personal distress. Instances of identity theft, stalking, and loss of reputation can be traumatic.