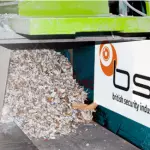 A home shredding service in Macclesfield will make your life easier. Having to shred documents takes up time. Yet, it is vitally important that it is completed. As a small business owner, it is your responsibility to keep your clients' personal data safe from prying eyes. This includes information on old, no longer needed documents. When it is time to purge your files, these documents must be properly destroyed. The data protection act insists on this. If you can't keep up with the effective destruction of old documents, perhaps it is time to consider a home shredding service.
We are pleased to assist. In Macclesfield, a home shredding service begins with purchasing the shred sack in a size best suited to your requirements. These can be ordered online on our website. The shred sack, along with its security tag is delivered to your home. Place your unwanted documents into the sack and seal it with the security tag. Call us to arrange the collection of your full sack. Our uniformed, with an ID will collect the sack from you at a time that best suits you. The sack is then transported to our shredding facility and the entire sack is then shredded. We will send a certificate of destruction to you once the process is complete as evidence that your documents are lawfully shredded. It is a safe, easy and convenient process. You'll wonder why you haven't used this service before.
A home shredding service in Macclesfield is completed by a registered and authorised company. Contact Ministry of Shred and learn more about our effective and professional home shredding service. Many people fall prey to unscrupulous criminals who use the personal information in fraudulent acts. Don't let it happen to you. The best way you can protect yourself and your clients is by making use of a professional and efficient home shredding service. Give us a ring today to get started. You'll be pleased you did. You will also be interested to find that all the shredded documents are recycled and made into reusable paper products.