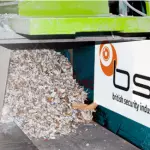 If you've been looking for a paper shredder service in Urmston, Ministry of Shred is your solution. It's a simple solution too. You don't have to load up your car with boxes of documents and haul them to some designated location for a one day only special service. You don't have to wait in line for your turn or worse yet, leave the documents with strangers and hope they do a good job. In fact, you don't even have to leave your home. So, if you have a home office, as so many of today's small business owners do, we're perfect for you. Here's how it works. Visit our website. There you'll order our security sacks. They are available in lots of one, three or five, so order what you think you'll need.
We'll deliver your security sacks along with a security tag. For people in Urmston, paper shredder service security is extremely important. You don't want to be the victim of an identity theft crime yourself. You also do not want to be the cause of your clients becoming a victim of identity theft. You have a legal obligation to protect your customer and clients' sensitive information. When they do business with you they are putting their trust in your hands. So you have your bags and their security tags. Now all you have to do is fill the sacks and seal them with the provided security tag. You will notice that the sacks themselves are made of strong but shreddable material. Call us, and we will send a member of our staff, security screened to British Standards, to collect your sacks.
Our paper shredder service in Urmston will transport your sacks to our shredding facility. The collection trucks are secure and fitted with tracking devices and our shredding facility is monitored by CCTV for added security. On arrival at our shredding facility, the tag code is confirmed and the bag goes directly into the shredder without ever being opened. Documents are shredded according to British Standards and you will receive a Certificate of Destruction. Save that for your records as proof of your responsible handling of sensitive customer documents. If this security method sounds good to you, contact Ministry of Shred. We make responsible document disposal easy, convenient and cost effective.