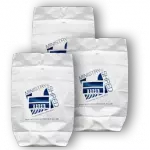 We believe that the best way to improve your home office security in Bolton is to dispose of your sensitive papers by shredding. Sometimes even shredding will not be enough to help you avoid being a victim of fraud. If you just throw your paper and documents with sensitive information is definitely not a good idea. ID fraud is on the rise, unfortunately, and it costs the UK economy up to three billion pounds every year. If you take care to dispose of your sensitive information in a responsible manner, you also help to save the economy. Not only will you keep yourself protected, but also the reputation of your business.
A business needs to keep important documents for a number of years. In Bolton, home office security means that when you dispose of the unwanted documents, you will do so safely. We would be pleased to assist, by eliminating your need to take care of your own shredding and throwing the waste at an accessible area. We provide shred sacks. These are bags that are perfect for the shredding process. Our sacks are recyclable and hold up to 20kg of paper. They are secure and convenient. Our process is simple. All you have to do is order for a bag online, which will be delivered to your doorstep with a tag. Fill the bag up to the level line and seal it with the tag provided. The bags are shredded along with your documents and recycled so that they are never opened.
We take your home office security in Bolton seriously. When you schedule a pick up of the sack, our driver will come and collect your bag and take them back to our shredding facility. Here your documents are shredded according to the British Security Industry Association Standard. Contact Ministry of Shred today and we'll help you keep your sensitive information away from prying eyes. Once the shredding is done, we'll send you a certificate confirming the destruction of your documents. Keeping your clients' personal data safe is vital. Ensure that it is by using a professional shredding service.