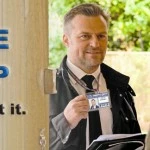 Confidential shredding in Lymm is an effective and safe way to keep your clients' sensitive information secure. The data protection act states, among others, that employers and business owners are obligated to keep clients' information no longer than is necessary, and that it is handled in a way that ensures appropriate security, including protection against unlawful or unauthorised processing, access, loss, destruction or damage. When the information is no longer necessary, it should be disposed of in the correct way. The most effective way of destroying a document is by shredding.
The average home office shredder is unsuitable for large volumes of paper. In Lymm, confidential shredding by our expert team can take care of the disposal of unwanted paper for you. We are aware of the danger of ID fraud. In fact, over the past year, over 100 000 people were victims. ID fraud costs the UK economy £3billion every year. A staggering amount, yet, unfortunately true. We are available to assist you with top quality confidential shredding. The way it works is simple. All you need to do is order the shred sack in a size that best suits your needs online. Once we receive the order and payment, we will send the sack as well as the secure id tag to you. You can then fill the sack to the level indicated. When it is full, and sealed, arrange for a collection from our team.
Confidential shredding in Lymm by our expert team gives you peace of mind. When you book a collection at a time that suits you, our identified drivers will collect the sack from you, transport it to our shredding facility and your unwanted documents, including the sack are correctly shredded. We will then send a certificate of destruction to your email address as prove that the documents are correctly shredded. For more details about our confidential shredding service, contact Ministry of Shred. We are also happy to provide a free quote for our services. You will be pleased to know that your unwanted documents are shredded according to BSIA standard EN15713. This ensures that our management, control of collection, transportation and destruction of confidential material is completed according to their strict guidelines.