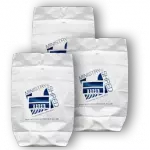 Mobile document shredding in Lymm fills a security gap for those with home offices. Today, even those who commute to work in an office each day may still have a home office. Thanks to technology, many professionals and small business owners can work exclusively from home. Most of us need at least a corner in the kitchen or bedroom as a home office to manage our own personal finances, documents, communications and family schedules. We all have sensitive documents in our homes that do not need to be filed and saved but that we can't safely toss in the trash. If the documents contain the sensitive information of others, we can't legally toss them into the trash. They must be disposed of safely and responsibly.
A home shredder will not totally protect documents and it provides no proof that you safely disposed of client information. That's a security gap and in Lymm, mobile document shredding closes the gap. You can actually do this online. You simply go to our website and order our 20kg shred sacks. You can order one, a package of three or five. When they arrive, you'll dispose of sensitive paperwork and documents into those bags. It's likely you have files that are at least three or more years old and ready to be cleared out. Use our bags to do that. Each Shred Sack comes with an individual tag. When the bag is full, use the secure seal and attach the tag. Call us and a uniformed representative will collect your sealed bag at your door.
Your shred sack for mobile document shredding in Lymm is transported to our facility in secure vans equipped with tracking devices. Once the van arrives at our facility, the tag is removed and documented as yours. Then, the sack goes into our giant shredder without ever being opened. From the time you place those papers into our shred sack, no other hands touch or eyes see them; ever. The identifying tag is so we can send you a certificate of destruction for your files. Contact Ministry of Shred and close the security gap for your own document disposal and that of your clients and customers. Having a home office is convenient but don't forget that the magnitude of the responsibility is great. All that paper is recycled to make new paper products.