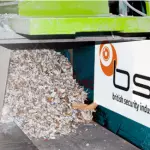 Confidential shredding in Macclesfield should be on your list of priorities if you own a business. The shredding of unused documents remains an excellent way to protect your clients' confidentiality. It is also a way to protect your business. Unfortunately, there are opportunists who dig through your rubbish bin to find old documents for personal information, which they then sell.  As a business owner, you are ethically and legally responsible to keep your clients' information out of the wrong hands. Sadly, identity theft happens every day and it can be both devastating and catastrophic to the victim. Approximately £3billion every year is the cost in the UK for identity theft. There are ways in which to protect both your clients' and your business' sensitive information.
We can assist you so that you do not become part of the statistics. In Macclesfield, confidential shredding plays a huge role in protecting sensitive information. We offer a confidential shredding service that is both easy to use and convenient. You can purchase one, or more, of our recyclable shred sacks. Fill the shred sack with your unwanted documents, secure it with the supplied tag and give us a ring for collection by our uniformed and background checked staff. One of our representatives will collect the sealed sack at your door. Your sack is then securely transported to our shredding facility. Upon arrival at our facility, the shred sack is deposited directly into the shredder and completely destroyed. Once the shredding is complete, we will send a certificate of destruction to you, confirming the complete destruction of the sack and its contents.
You can ensure your clients' anonymity with confidential shredding in Macclesfield. Using a home shredder, or worse, just tearing up old documents won't do the job and keep you safe. Use a professional and reliable shredding company for the destruction of unwanted documents. For more details about our shredding services, contact Ministry of Shred today. Our easy to use low cost system, completed by our expert team will ensure your clients' protection from identity fraud. It will keep your business safe from liability for identity fraud as well.