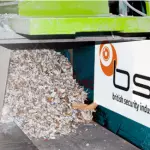 Your search for a paper shredding company in Hale Barns ends with Ministry of Shred. A lot of paperwork is one of the drawbacks that come with running a business. Despite the digitisation of most business operations, paper remains the most reliable means to store information. From letters, invoices and bills to contracts and other business documents, there are various types of paperwork housed in business premises. Unfortunately once the paperwork has outlived its usefulness, most businesses do not know what to do with it. Paper shredding is the best way to discard papers and the process is fairly simple.
Disposal of paper forms a crucial part of any business. In Hale Barns, a paper shredding company ensures the process of disposal is the least of your concern. At Ministry of Shred, we carry out efficient paper shredding to meet the needs of any company. Whether you are a large printing business or a small legal company, we can handle your shredding needs. We are equipped with all the necessary tools to ensure the shredding process is effective and efficient. Our machines have a high processing capacity allowing us to offer fast services. Moreover, the machines use the latest technology which guarantees high-quality results. Whether you are looking to shred classified documents or normal business paperwork, we have you covered.
Papers hold a lot of information and that is why a paper shredding company in Hale Barns is the best disposal solution. Even when the need for the paper ceases, the information on it still needs to be protected especially when it's sensitive or classified. Good practice in paper disposal is shredding. The process ensures both the paper and the information is discarded. At Ministry of Shred, we operate a secure paper disposal system that ensures no classified or sensitive papers leak out. We are specialist in paper shredding with an unmatched experience in the business. Our services meet top quality standards and our reputation precedes us. If you want affordable services and high quality, call Ministry of Shred. We are leading experts in the businesses of paper disposal.