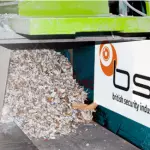 If you need mobile shredding in Bolton, contact the experts. One of the best ways to make sure that your confidential papers and documents are properly shredded and disposed of is by hiring a shredding company. At Ministry of Shred, we specialise in the collection of papers and shredding them in our industrial shredder. In previous years, we have worked with many clients including law firms, offices, and small businesses, and have provided them with our timely and eco-friendly services. Shredding and recycling paper is the best way if you are looking to clear out your archives or get rid of a huge pile of files.
It's easy to deal with Ministry of Shred; if you have a large collection of paper that you want shredded, you can place an order for our secure shredding sacks. In Bolton, our mobile shredding services are perfect for those who would prefer to have a reliable company collect all old documents and paper to be shredded. Our sacks can hold up to a capacity of 20kg, therefore, please order as many as you need if you have a high volume of paper to clear. Don't worry, the sacks are strong and once you tie them, that is how they will go through the shredder. Once they have been collected, they remain unopened before, during and after the shredding process. Shredding old documents and paper is important as you have to keep your clients' information confidential. Names, addresses, social security numbers, bank accounts, and email addresses all count as confidential information. Even if you are a small business, without any doubt, you will have access to some of this information. Therefore, the most secure way to get rid of this information, if they are on paper, is to contact us.
Prevent ID fraud and theft by calling us for quick and efficient mobile shredding in Bolton. We follow very strict protocols, and you will be provided with a unique tag ID or reference number for a smoother process. For more details about our mobile shredding services, contact Ministry of Shred. You will also be able to track the sacks back to the shredding facility, giving you complete peace of mind.