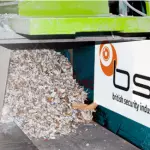 Need efficient mobile shredding services in Oldham? When it comes to confidential documents and sensitive information, it's always better to leave it to a company that specialises in secured destruction. At Ministry of Shred, we specialise in document shredding. So, if you have large amounts of paper that you no longer need, leave it to us. To start the process, purchase your handy shred sacks online. Fill your shred sacks with all the documents you no longer require. Once they are full, you can secure them with the provided tags. We will arrange, at a time that is most convenient to you, the collection of the shred sacks and transport them to our shredding facility.
We need to emphasise the importance of protecting the ID of your clients and their sensitive information, as well as your own. In Oldham, our mobile shredding services are efficient and thorough when it comes to paper destruction. Whether it's a large amount of paper or small, we are happy to offer an efficient solution to your needs. We invest in personnel training and the latest technologies to ensure that the security of your documents are protected until they have reached our shredder. Once they are completely destroyed, you will be provided with a certificate stating that all the documents entrusted to our care have been diligently destroyed. All the shredded paper is then repurposed as disposable products. So, whether you are going digital, clearing out office space or carrying out a simple spring cleaning, you can always count on Ministry of Shred to offer you value for money services.
Take advantage of our mobile shredding services in Oldham and ensure that you are maintaining the security of your clients' personal information. For more information about our mobile shredding services, contact Ministry of Shred today.  We will discuss your needs and suggest the best solution. We will also help you by discussing proper security protocols and how best to store materials between visits. Using our mobile shredding services means that you will play a role in minimising your carbon footprint, and you will abide by the Data Protection act.