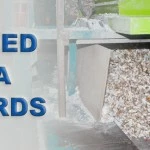 Our very secure paper shredder service in Hale Barns is especially necessary in today's technological age.  It has become easy to commit identification fraud with just a little crucial information. This can be collected from your garbage if you throw out documents with details on them.  An office shredding machine may seem like the answer but the documents can be put back together. The only sure way of destroying the documents is by sending them to our secure shredding yard.  We provide secure bags which are filled with your office papers and sealed.  Once you have a full and sealed bag you contact us and let us know you have a collection.
When you have confidential documents which may compromise the financial safety of your client in Hale Barns, paper shredder service companies can make sure that no-one can access their information. One of our collection vans will arrive at your premises. The vans are all on a tracking device which shows us where they are at all times. The driver will present his identification and collect the bag.  This is then taken to our secure yard.  The bags are loaded onto a conveyor without being opened.  This ensures your confidentiality as no-one is able to look at any of the documents.  The bag then goes into the industrial shredding machine which reduces the paper into hundreds of tiny fragments which can never be assembled.  They are sent to a paper mill to be pulped and remade into useable paper again.
Our competent and efficient paper shredder service in Hale Barns will benefit the environment.  Contact Ministry of Shred today to order your secure bags.  They can take up to 20 kg of paper and light card. We will supply you with a document which certifies that all your confidential documentation has been confidentially shredded.  This will absolve you of any legal repercussions should one of your clients become one of the 100 000 people who were victims of identity fraud last year.  The number keeps growing and the only way to stop it is through securely destroying all sensitive information.