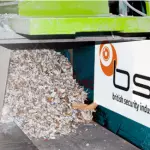 New clients sometimes tell us they wish secure document shredding in Prestbury had been available 20 years ago. Some have been working from home that many years and now they have 20 years of sales and tax documents lined up on basement shelves. Client's personal information and their own sensitive documents are all there. They could have shredded them year by year but they weren't in anybody's way. So instead of just keeping the last five years of records and eliminating one each year, they are stuck with twenty years of files instead of five. Start now using our secure disposal service for home offices.  
Our service simplifies your obligation to protect the personal information of your customers and your own. For home based businesses in Prestbury, secure document shredding is as simple as filling a bag with sensitive documents. It's tempting to just toss them in a trash bag, dump coffee grounds and such on top and put them out for rubbish pick up. You underestimate the tenacity of the identity stealing dumpster diver. It's a common method of identity theft. It's a dirty job but it pays well so a few rotten vegetables is not a deterrent. For safe document shredding go to our website and learn about us. Then order the quantity of Shred Sacks you need; one, three or five. You will receive your bags with an identifying security tag quickly so you can begin stuffing them.
Once the shred sacks are full they are ready for secure document shredding in Prestbury. Seal the bag according to directions and attach the tag. Schedule a bag pick up and our security screened couriers will arrive at your home to collect the bag or bags. Once you seal and tag them, they are never opened again. They are transported to our recycling facility, dumped into the shredder, bag and all, and the paper is then recycled. You will receive a certificate of destruction. Contact us with any questions or concerns you may have. Your documents are secure and you have protected your clients against fraud. By using our services, you won't be responsible for crimes against your clients.