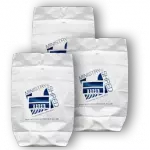 If you have a tonne of documents and no way of getting them to a shredding centre, you could benefit greatly from mobile document shredding in Cheadle. At Ministry of Shred, we have a special collection service that is both secure and cost effective. We are well aware that ID fraud causes a 3 billion pound deficit in the UK economy each year, which is why we provide the most secure way to clear out your office and get rid of sensitive documents. Do not become one of the 100,000 people who are the victims of ID fraud each year.
For companies and home offices in Cheadle, mobile document shredding couldn't be easier. It all starts with your online order. You have to choose how many security sacks you will need and then complete the payment through PayPal. Once the order has been placed, we will send you the security sack and tag. You will have to fill the bag up to the fill line, and then secure it using the security tag. Due to their design, the bags will be shredded in their entirety, without ever being opened by anyone within our company.
After that, you will have to book online, or contact us for mobile document shredding in Cheadle, and set up a pickup date. We will arrive at the address you provide, show you our proof of identity, and confirm your security tag code. We then load your sack into our GPS tracked security truck and take it back to the shredding facility. Once the truck arrives, the truck will back up directly into the processing plant, where the sack is unloaded, and shredded. Finally, you will receive documents which attest that your papers were shredded in accordance with the British Security Industry Association Standard EN15713. This will guarantee that all aspects of the process, from the management and collection, to the transportation and destruction of the documents was done according to the association's strict guidelines. We will also e-mail you, confirming that shredding has been finalised.