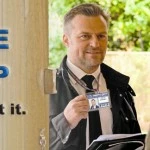 While the internet has made working from home more convenient, you will still need a shredding company in Oldham  to ensure that your clients' personal information is securely disposed of. Your home office probably has plenty of documents which could pose a huge risk if any of them land in the wrong hands. Identity theft in the UK is rife and even as a home business, you need to take steps to secure your personal information. Stealing identities is big business for criminals, and you don't want to allow them access to any of your personal information. Do research and you'll find out how identify theft has brought many a person to financial and personal ruin. We offer a secure, confidential shredding solution. We've got different sized security sacks with tags and you can simply order them online. Why worry, when you can be sure that not a trace of your name or other personal information will ever get into the hands of people who wish to destroy you.
At Ministry of Shred, you fill up our bags with your documents you no longer need and then securely seal the bag with a tag we supply. In Oldham, a shredding company will collect your full sealed bags. We will come to your home to collect your bag, making use of uniformed staff who have been security screened. Our vehicles are fitted with tracking devices to make sure they head directly to the shredding facility where your sack is unloaded, checked against and order number and thoroughly shredded. Not a trace of information is left behind. Everything is done within strict guidelines.
A shredding company in Oldham will take the hassle out of destroying unwanted files and information. Once we've had all your documents shredded, we will send an  email to you with a certificate of destruction, confirming the destruction of your documents. Contact Ministry of Shred if you are looking for a professional shredding company. What really concerns us is that as a home office, you believe your documentation is safe. It most certainly is not, and we want you to rest assured that we're behind you when it comes to protecting everything about your home office's confidentiality.