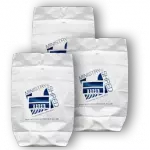 You can get confidential shredding in Bolton to keep your business safe and protect you from identity theft and fraud. You may be aware how prevalent identity theft has become in recent years. If you have employees, a confidential shredding service can make sure that their personal information is secure, as well as the personal information of your clients and even your own information. As a business owner, you can be liable for allowing personal information in your possession to be abused. You can also lose your competitive edge if your competition is able to garner confidential information about your business and use it against you.
For your business in Bolton, confidential shredding is securely provided by Ministry of Shred. We have been protecting businesses throughout the region for many years. We offer safe and secure services that will shred confidential documents and information to protect you and your company from criminals and from your competitors. All you need to do is order your shredding material from our website, using a PayPal account. We will send your supplies to your location. It will include sacks with tags used to close them when they are full. Simply fill the bags with material for shredding and close them. Schedule a pick up and our uniformed drivers will collect the bags and take them directly to our shredding facility. Bags are never opened once you seal them. The bags with tags and documents are all shredded together. After shredding 99.9 percent of the material is recycled. Once your documents have been shredded to the British Security Industry standards, we will issue a Certificate that will be emailed to your confirming the destruction of the documents.
Professional confidential shredding in Bolton can keep your business safe from prying eyes. Contact Ministry of Shred today if you would like a quote or more information. We will be happy to answer any questions you may have and get you set up with a regular schedule for shredding. We are reliable and secure, and we will keep you secure and safe from information theft.