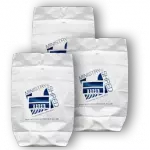 Mobile document shredding in Hale Barns is the smart thing to do. Identity fraud costs the UK economy £3 billion every year, with as many as 100 000 victims last year alone. Many people think that it is okay to just throw away confidential documents, thinking that no one would be interested in them, but they are wrong, this is how identity fraud starts. Do not be one of those naïve people, call Ministry of Shred today.
If you have a home office in Hale Barns, mobile document shredding is something you need to look into. So how does it work? Is it safe? The process is as safe as it is simple. First, you have to go online and order a shredding sack. You can get the shred sack, triple sack or the five pack sack, whichever is more suitable for you and your needs. Once you have received the sack, fill it to the line and close it with the security tag. Then call us and we shall send a uniformed driver to collect it. He will load your sack onto a truck, where it will remain closed, and it will be transported to our shredding facilities, where it will be destroyed. On completion, you will get a certificate of destruction stating that your documents have been properly disposed of. It's that easy! Not only is it safe, but we are eco-friendly, recycling over 99.9% of our shredded material. That is the equivalent of 14 trees for every ton of paper! So make a difference today and visit Ministry of Shred.
Mobile document shredding in Hale Barns can ensure that you will not have an identity theft problem.For more information about mobile document shredding, contact Ministry of Shred. Our friendly staff are happy to help you if you have any enquiries, so don't hesitate to call. If you don't want to become just another statistic when it comes to identity fraud, come to us when you need to get rid of some confidential documents, you won't regret it.