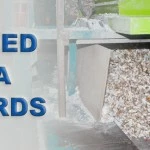 If you require safe disposal of sensitive documents, it is best to opt for secure shredding in Prestbury. Old bills, photocopies of identification cards, receipts and expired cards all contain identity information. If this falls into the hands of the criminal element, you can surely expect identity theft to occur. Each year hundreds of people fall victim to this crime. Take an assertive stand and opt for secure shredding to avoid these problems.
If your office is located in Prestbury, secure shredding services are offered by Ministry of Shred. Our service is easy to obtain. First, we request you to order a security sack online and make a payment via the PayPal payment system. Once your order has been placed, we will mail you a security sack and tag. Fill this bag up to the level mark and seal it securely with the tag. The bag will never be opened. It will simply be tossed into the shredder. You may book your security sacs online or call us directly. If you are unsure about which size to purchase, our team can assist you. If you are opting for a collection, our driver will show you his identity proof before collecting your sacs. After confirming your security tag code, the truck will take the sack back to the secure facility. Rest assured, our vehicles are tracked to ensure secure collection of your documents. Upon arriving at the facility, the truck directly dumps the sacs into the shredder. Once your documents are shredded, we will email you a certificate that confirms destruction of documents. After destroying your documents, we recycle the material into various paper products.
Don't fall prey to identity theft and opt for secure shredding in Prestbury. Give Ministry of Shred a call today to discuss your requirements. We will gladly you assist you. Rest assured, all your secure documents are shredded according to BSIA standards!