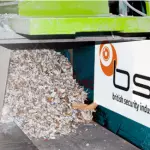 Secure shredding in Warrington is important if you want to be 100% sure that sensitive information doesn't land up in the wrong hands. Don't hold onto documents your business no longer needs, as there are always those who are waiting to get hold of information that can put your business at risk and tarnish its reputation. At Ministry of Shred, there's nothing we leave to chance when it comes to getting rid of sensitive information, as all unwanted documents go through our heavy-duty shredders. We visit your premises because we know that what applies to one company doesn't necessarily apply to the other. We then prepare our recommendations for your particular business, providing a secure storage method for your office environment. We provide your office set-up with secure cabinets that are available in different sizes, ensuring that we tailor a solution that works affordably and effectively for your organisation.
Our shredding machines make quick and thorough work of your documents. In Warrington, secure shredding ensures that every business is in compliance with the required legislation. We also know that irresponsibly discarding trash has a negative environmental impact as well. We can assist with by providing recyclable shred sacks for your document disposal. These include our popular Shred Sack, our Triple Sack and our Five Pack Sack. The sacks can be ordered online. All you need to do is fill the sack and seal it with the security tag provided. When we collect the sealed sacks from you, our staff provide proof of identity. They are also screened to British Standards. Our vehicles are also fitted with tracking which means they are constantly monitored.
Secure shredding in Warrington includes your sack being unloaded right inside the building, being checked against your order and then shredded without you sack even being opened. If you would like more information about our services offering secure shredding, contact Ministry of Shred. Once your sack with the unwanted documents is securely shredded, a certificate is emailed to you confirming the complete destruction of your documents. It is our policy to turn all recycled materials back into usable products.