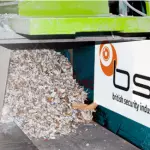 Using the services of a paper shredding company in Didsbury can help in keeping sensitive information secure. Every year, many people have their lives turned upside down through identity theft and fraud. This usually happens when criminals get hold of confidential documents with personal details. As a business owner, you have a legal and financial obligation to protect all details supplied to you by your clients. You can be held liable if information is leaked from your company. This could be through your staff or because of inadequate destruction of paperwork. An office shredder is not effective enough to destroy paperwork. It could also mean that papers going to the shredder can be copied or read.
When ensuring your clients' confidentiality in Didsbury, a paper shredding company will make sure that documents remain secure. Ministry of Shred will provide a secure bag that allows you to put all confidential documents into it and seal it. This bag is then collected by a vetted driver of the shredding company. The collection vehicle has a tracking unit so that it can be monitored at all times. The bag is taken to the yard where it is recorded and put straight into the shredding machine without being opened. This ensures that your documents are not seen by anyone who does not have the authority to work with them. You will also receive a certificate to prove that you have responsibly disposed of all confidential documentation. The paper is shredded into tiny pieces which makes it impossible to reconstruct the document.
A paper shredding company in Didsbury is an important part of your company's security. Your clients trust that you do all you can to protect them. Contact Ministry of Shred today to speak to them about their paper shredding company and arrange for secure bags. Ensure the safe destruction of your clients' sensitive information and use the services of a paper shredding company.