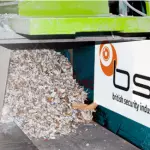 A shredding company in Stockport is necessary if you have business documents with client details. There is a flourishing business in the theft of people's identities. Your clients would have a financial claim if their details got into the wrong hands and it could be proved to come from your company. You have a legal responsibility to responsibly destroy all old documents in your care. There are a number of ways to do this. One can have a yearly clear out and have all the older documents discarded. These can be discarded in special bags that will be collected by a uniformed driver from a confidential shredding company. The driver will show you identification proving he is employed by the shredding company. The vehicles have tracking systems in every truck enabling the company to keep an eye on all collections.
When you get rid of out of date confidential documents in Stockport, a shredding company will supply you with enough bags to hold all the documents you need to destroy. Once they are full a tag is used to seal them so that there is no chance of anyone tampering with the papers. The sack then goes to the secure yard and is checked in and unloaded. The sacks of documents go directly into a giant shredder which shreds the sack and documents so that no-one opens the bags ensuring your documents are especially secure.
Use a shredding company in Stockport that makes sure that the documents are shredded to British Security Industry Association standards. You will also be given a certificate of destruction as proof that all confidential documents have been correctly destroyed. The paper and documents that have been shredded are then recycled. The recycled paper helps to diminish your company's carbon footprint and The Ministry of Shred rate security as high as it does protection of the environment. Contact The Ministry of Shred today for more information about a professional shredding company. Recycling saves millions of trees from being cut down to make paper pulp. Make sure you are doing the best you can for the environment while ensuring your client's confidentiality.