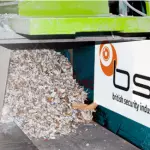 A paper shredding company in Bramhall and a sister company to Elsa Recycling offers a great new service available for home offices from Ministry of Shred. Many people work from home these days and they face some of the same security issues that large companies face. Dumpster diving is a common technique for identity thieves to steal sensitive personal information. Therefore, you cannot set your old files and daily business communications out with the trash. You have an obligation to protect the personal information entrusted to you by your clients. The Ministry of Shred has a solution that is safe and legal. You can begin to clear out those files stored by year in your basement. You can start with the 1980's and just work your way up.
In Bramhall, a paper shredding company uses disposable and shred-able bags. You can order them right online. You can order one Shred Sack and keep it handy for the disposal of personal and business paperwork. The sack will hold 20kg of paper.  When the sack is full you tie it off and call for a pick-up at the number provided. The Ministry of Shred will retrieve your filled sack in secured GPS tracked vehicles and deliver them to their shredding and recycling centre. The sack is dumped directly into the shredder from the truck without anyone touching or opening it. The whole thing is shredded, sack and all. All Ministry of Shred personnel are vetted and they know where your bag is at all times after pick up. Their centre is protected by high tech surveillance equipment.
The paper shredding company in Bramhall also sells Shred Sacks in quantities of 3 and 5. If you have a back log of files you no longer need you might want to get rid of those first and order the larger quantity. They shred your documents according to the British Security standards so you know they have been managed, transported and destroyed according to stringent guidelines. Once the process is complete, they will email a Certificate of Destruction to you. With the huge amount of identity theft prevalent today, the Shred Sack offers small home businesses much-needed protection. For a paper shredding company, contact the Ministry of Shred.