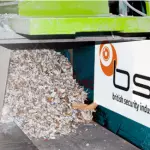 Confidential shredding in Timperley is not a luxury but a necessity. It may not have occurred to you that you place yourself at risk every time you throw out documentation containing your personal details. Your old bills and correspondence could get into the wrong hands. "What real damage could that do?" you may ask yourself. Perhaps you have not considered the prevalence of identity theft? Last year alone over 100 000 people had their identity stolen in UK. Identity theft is not simply an inconvenience. The consequences can be severe. Your personal finances could be impacted. You could have difficulty in securing loans, credit cards or a mortgage until the matter has been resolved. A person in possession of your personal information could open accounts in your name. They could obtain credit cards, access state benefits, and take over your existing accounts. They could even obtain official documents such as a passport and drivers license all in your name.
In Timperley, confidential shredding can help. Instead of throwing out your personal documentation you could use the services of Ministry of Shred. The process at Ministry of Shred could not be easier. You can order a Shred Sack online and use the secure Paypal payment system. Order according to your needs; either a single sack, a triple sack, or a five pack sack. Fill the sack with your paper waste as indicated. A security tag is provided to seal the sack as the sack will be destroyed, unopened. Call Ministry of Shred or book online for the collection of your sack. A driver will come to you to collect at the agreed time. The driver will produce identification so you can be sure that you are handing your paper to the right person. The security tag enables tracking of your paper to the shredding facility where it is checked in. Your sack of paper is destroyed and you are issued with a certificate of destruction. Simple.
Confidential shredding in Timperley couldn't be easier with Ministry of Shred. Don't be a victim of identity fraud. Contact Ministry of Shred today for more information about confidential shredding.