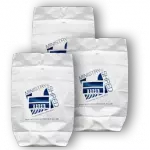 You should consider secure shredding in Didsbury if you need to clear out your home office. Over 100 000 people became victims of identity theft last year, and the incidents of this crime are on the rise. Identity theft is made possible by many ways. One way is the incorrect disposal of important documents. One would assume that it is perfectly fine to toss your documents in the bin. In today's world, if your documents aren't shredded and disposed of properly, your important information can be copied and used which could lead to a huge problem.
In Didsbury, secure shredding is not complicated. All you need to do to ensure a safe and efficient service is call Ministry of Shred. This company is known for its outstanding service performance and its understanding of the importance of customer discretion. Their service will enable you to securely dispose of your documents using their stress-free method. The first thing you ought to do is purchase one of their security sacks that will suit your disposal needs. Once you have specified which security sack you need, it will be delivered to your doorstep, along with your security tag. You then need to fill it up to the level line and seal it with the tag. This will ensure that the bag is shredded without being opened. The final step is to book a collection. Use the security tag code to book the collection, and a professional collection driver will collect your security sack to transport it to the security shredding facilities. All security sack codes are checked to ensure the correct ones are being disposed of. A certificate of destruction will be sent to you once the process is complete.
If you use secure shredding in Didsbury, you can be safe in the knowledge that you will not be a victim of ID fraud. Ministry of Shred follows the standards, rules and regulations set by the British Security Industry Association in their management of collections, transportation methods and shredding processes. The next time you want to throw away any documents containing information about your company, your personal details or important passcodes, remember to call Ministry of Shred first. For more details about secure shredding, contact Ministry of Shred.