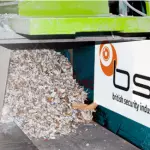 Ministry of Shred is a well-known paper shredding company in Sale Moor. The process of working with the Ministry of Shred is very simple. It starts with an online order that uses the Paypal system for payment. Once the order has been confirmed, a tagged security sack will be sent to you. You then fill the bag to the level line and secure it. Each bag is designed to be shredded whole without ever being opened. You then book online, or place a call to discuss your requirements. Once the booking is confirmed, one of the Ministry of Shred's collection drivers will show up at your collection address and provide proof of their identity.
In Sale Moor, paper shredding company Ministry of Shred uses secure GPS-tracked vehicles to transport your documentation. In this way, in case of a problem, the company can immediately locate your documents. Once the documentation has arrived at the shredding facility, the truck carrying it backs up directly into the processing plant, and the documentation is shredded without anyone opening the bag. All documentation is shredded according to the EN15713 standard of the British Security Industry Association. This ensures that the Ministry of Shred and all of the company's processes from management, to transportation, control of collection and destruction of confidential documentation is done according to strict guidelines. Once the documents have been destroyed, you are issued a certificate that will confirm the shredding.
Place a call to Ministry of Shred if you are looking for a paper shredding company in Sale Moor. You can order one sack at £7, three sacks at £14 or five sacks at £21, depending on your needs. The whole process can be started and handled online, but if you want to find out more information directly from the company's helpful customer service, place a phone call today. For a paper shredding company, contact Ministry of Shred.