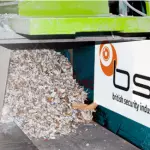 A paper shredding company in Bowdon plays a major role in ensuring your personal information doesn't fall into the hands of life-wreckers. These people take on your identity and use it in different ways to benefit themselves. Your name might even be linked to something preposterous as a child porn ring, resulting in the police harassing you at unearthly hours. If this hasn't already happened to you, you need to take steps immediately to ensure that your personal information is shredded so that nobody can use your details to enhance their lives. Ministry of Shred knows that everyone, particularly businesses, have confidential information that needs to be kept private from roving eyes. Confidential client information, salary slips, credit card- and sales receipts all need to be kept secret and protected.
In Bowdon, a paper shredding company protects the security of your private information. Ministry of Shred knows that documents with social security numbers, credit card numbers, passwords and employment records are an invitation to identity thieves to wreak havoc on your life. Ministry of Shred make it simple and streamlined and you can order your security sack online, making use of the secure PayPal payment system. They will send you your security sacks in different sizes with special tags so that you can secure your bag once it has filled up to the level line. When your bag is collected to be shredded, it is never opened. You'll notice that with Ministry of Shred, everything is done professionally by staff who have been security screened to British Standards.
A paper shredding company in Bowdon has security collection trucks which are fitted with tracking devices. This means the trucks are monitored back to the security shredding facility. Every document is shredded to the British Security Industry Association standard EN15713, so you can have peace of mind that the entire destruction process adheres to strict guidelines. Once everything is shredded, a certificate will be e-mailed to you confirming the safe and effective destruction of your documents. For more details about a professional paper shredding company, contact Ministry of shred.