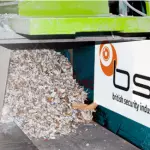 Are you looking for safe and secure mobile shredding services in Bury? Then you should consider the Ministry of Shred, a company that specialises in the destruction of sensitive documents. ID thefts, leaking of sensitive information and so on can cause a lot of monetary loss to a company and every year, billions of pounds are lost through the improper disposal of sensitive information and materials. Therefore, to avoid putting your customers and other clients at the risk, or even yourself, it is always better to hire the services of a company that promises the safe destruction of all these papers.
In Bury, mobile shredding services are offered by The Ministry of Shred. The company is quite well-known for their services and they have completed a large number of projects over the past year. One of their projects consisted of sending the 20 Kg sacks that the client had ordered online to their location which he then filled. After that, when the client was ready and had set up the collection time and date, the officers in charge went to pick up the fully recyclable sacks and brought it to the destruction facility to be shredded securely. The sacks are never opened as they are shredded together with the confidential papers. In fact, to make sure that no one opens the sacks, they are equipped with a cable tie around the top of the cask to make sure that no one else has the opportunity to open it. On top of that, when the officers come to collect the bags, they will show proof of their identity to make sure that you are dealing with the right people. Once the documents are shredded, the scrap paper is then recycled and turned into useful materials again.
If you are planning to spring clean and you need mobile shredding services in Bury, then do not hesitate to reach out to The Ministry of Shred. They are a qualified and reputable company that places your concern for security at the top. Should you have any further enquiries about mobile shredding services, contact The Ministry of Shred.