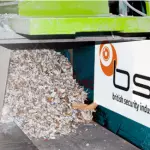 A paper shredding company in Oldham is sought after when there are valuable documents with sensitive and confidential information to be destroyed. Paper shredders are fast working and highly efficient, removing all traces of information. The Ministry of Shred don't just accept that all offices are the same. They visit your office to establish where confidential material is generated and what volumes there are and then recommend a paper shredding process that will fit your office environment uniquely. They tailor a solution that is cost effective. People who are concerned about the planet appreciate that The Ministry of Shred recycles all the paper, cardboard and plastic they deal with. They work hand in hand with their sister company Elsa Recycling Group to ensure all destroyed documents are recycled back into paper products.
In Oldham, paper shredding company benefits include collection services too, saving you loads of inconvenience. Ministry of Shred makes provision for you to order your different sized security sacks online. The security sacks are then filled and securely sealed with the security tag which comes with the sacks that you ordered. Once your bag is filled up with confidential documents and sealed securely with the tag, the bag is never opened again. When your bag is collected, you won't have just any driver collecting your bag. The drivers of The Ministry of Shred have all been vetted and will present you with a proof of identity. They remove your sack, placing it in the collection truck. For safety, vehicles are fitted with tracking and are monitored right up to the security shredding facility.
With a paper shredding company in Oldham such as The Ministry of Shred, you can have confidence that you are dealing with a reputable and trustworthy company. When your sack arrives at the shredding facility, it is checked against your order and shredded, never to be seen or heard of again. Everything inside the sack is shredded to the British Security Industry Association standard EN15713, where every guideline is stringently adhered to. A certificate will then be emailed to you confirming that your sack has been disposed of. For more details about a professional paper shredding company, contact Ministry of Shred.