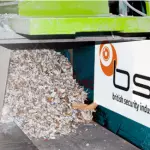 Mobile shredding services in Prestwich allows clients to get the most convenient services that will help them to keep information from documents and papers secured. Each year, the UK government urges people to take the necessary precautions, making sure that bank statements, private documents and other types of papers that contain private information be disposed of properly. Since identity theft and fraud is now on the rise, people who carelessly throw these types of documents in the trash often end up as the victims. This is why it is required that businesses and private individuals shred their documents and dispose of them properly according to the set security standards.
In Prestwich, mobile shredding services make it very easy and convenient for people to make sure that the information found in their documents remains secure. Companies like the Ministry of Shred provide services that will ensure that your documents will never be seen by prying eyes. Their main focus is to collect these documents from their clients, in sealable containers, shred them according to security standards and then dispose of them in an environmentally-friendly manner. To make it more convenient for their clients, they now provide mobile shredding services which will now allow clients to have their documents dealt with in the soonest time possible.
The mobile shredding services in Prestwich provide clients with a number of benefits. Apart from the peace of mind knowing that their documents are securely shredded, the services are readily available, regardless of the number of documents to be shredded. Using the services of Ministry of shred ensures professional destruction of sensitive documents and the receipt of a Certificate of Destruction once the shredding process is complete. If you are concerned about securely disposing of sensitive documents, contact Ministry of shred to find out more about mobile shredding services.