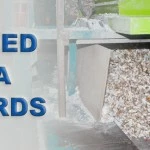 For secure document shredding in Middleton, Ministry of Shred offers their popular Shred Sacks for the easy, quick and trustworthy disposal of your confidential documents. Simply order a Shred Sack, seal your documents to be disposed of within it, and let the Ministry of Shred take care of the rest. Their staff will collect the Sack and transport it to their secure shredding facility. Once at the facility the Sack is offloaded and checked against your order again, before being directly deposited into the shredding processor. This ensures that no tampering or access to your documents can occur. Online ordering is also available through secure routes for your convenience.
In Middleton, secure document shredding is a necessary procedure for home or commercial offices. Identity fraud is a very serious risk in the UK, costing the economy around £3 billion every year. Ministry of Shred offers you effective measures against such security and safety risks. Every staff member is screened according to British security standards, their vehicles are all enabled with tracking devices and your documents are disposed of according to British Security Industry Association standard EN15713, ensuring your complete confidentiality and security. Furthermore, your Shred Sack has a unique security tag which will be verified at collection, and a certificate of completion will be presented once your documents are fully disposed of.
Ministry of Shred now offers Triple Sack and Five Pack Sack options for larger quantities of secure document shredding in Middleton, whether you are moving office or just clearing out your backlog of old documents. As well as their competitive rates, another benefit of using Ministry of Shred for your document disposal needs is their recycling policy. They fully recycle all the cardboard, paper and plastics they receive and reuse almost all of the recycled products. In fact, their Shred Sacks are made of recycled materials too. For every ton of paper recycled by Ministry of Shred, approximately 14 trees are saved. Contact Ministry of Shred today if you are interested in their secure document shredding services or want more information about their security, recycling or shredding process.