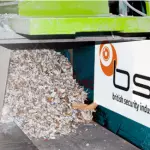 Are you looking for a proper home shredding service in Knutsford?  Perhaps you have been working from home for some time and you are getting quite a pile going in your office.There are a few different options. You could try to shred it yourself with the domestic home shredder you have, or dump it in the trash. Throwing sensitive documents away is not a wise idea as you could become a victim of identity theft. The better option is to find a service that will come out and take care of all of your sensitive papers and have them securely shredded. This might sound like a perfect answer, but you are not sure how it works and what you should do.
In Knutsford, home shredding service is very helpful for everyone that has a home office. Besides being helpful, it is also easy to use and the prices for such a service are affordable. Ministry of Shred offers an effective home shredding service. They have a very simple and safe process that they follow so that you can be assured that your papers are making it to the shredder and are shredded to BISA standards. All you have to do is go online and request a collection. A security sack and identity tag will be provided to you. When you are ready for the collection, your sealed security sack will be collected by a screened and approved staff member. The sealed security sack remains sealed right until it is placed into the shredder and both the contents and the sack are shredded. You will receive a certificate that confirms the sack and its contents have been shredded.
Keeping your unwanted sensitive information safe with a home shredding service in Knutsford is just that simple. You can order as many collections as you need and as often as you require. Remove the worry associated with correctly disposing of unneeded documents and files. Contact Ministry of Shred and arrange for an effective home shredding service.