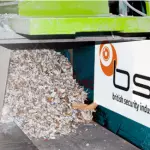 Using the services of a shredding company in Altrincham will greatly contribute towards the smooth running of your business. In any office it is good practice to keep proceedings and operations running smartly and tidily. There comes a time when documents have reached their sell by date and need to be disposed of. Unfortunately tossing them out with the rubbish is no longer an option as there could be real complications attached to that. In this day and age the business world is a very competitive one and your rivals will do almost anything to get one over you. Including going through discarded documents that could give them invaluable insight into the running of your company. Ministry of Shred is an established shredding business that meets all the highest standards of confidentiality and professionalism included in the British Security Industry Association standards.
In Altrincham, shredding company papers that are private is expertly done when using the service of Ministry of Shred. This company has put together a systematic procedure that will ensure your documents never see the light of day. You will have complete peace of mind from the time one of their highly trustworthy drivers who has been screened to the highest of security standards, pick up your bag intended for shredding until the time your goods have been shredded in the processing plant. Once your papers have been shredded you will receive a certificate confirming is has been done. Simply making this a service that is highly sought after given the incredible attention to detail this company has put in place. If you have documents you would like disposed of then get in touch with this highly revered business today for a faultless service.
If you are looking for a shredding company in Altrincham who puts your privacy at the top of their agenda then the services of the Ministry of Shred are for you. For a very competitive rate, these industry leaders will also be taking care of your recycling duties. For information regarding a shredding company, contact Ministry of Shred.