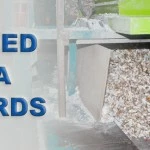 Are you interested in mobile shredding in Altrincham? Today, identity theft, snooping, fraud, breach of confidentiality and privacy issues matter to us all. Thousands of sensitive documents containing details of personal information, financial data and sensitive information may be incorrectly disposed of, leading to a huge trust deficit and fear among people. One solution is to destroy all such papers through shredding. However, purchasing a paper shredder may be expensive for smaller companies or homes. There is a great demand for outsourcing paper shredding services to a neutral third party who can be held accountable for any breach of security. Such shredding service companies either conduct operations on-site at regular intervals or they collect the material to be shredded at their off-site facility. Until the shredding service collects the material, it is to be stored in a secure manner either in special sealed bags or locked bins.
In Altrincham, mobile shredding helps companies and individuals to manage their paper waste in the most safe and efficient manner. Billions of pounds are estimated to be lost in identity theft and fraud cases every year in the UK and thousands of people are victims of such frauds. Hence, a shredding service provides a vital security facility that ensures peace of mind and safeguards your interests. Most paper shredding services also ensure that the paper waste is sent to government approved recycling sites so that people can confirm the end use of their waste paper.
Mobile shredding in Altrincham is available by entering into a contract with a reputed company like Ministry of Shred. You can book services on-line based on the volume of paper you have. They supply security sacks which can be filled and sealed with the attached tag. The company sends a secure van or truck equipped with GPS tracking to collect the bags and take them to their shredding facility. The bag is made of material which is also shredded along with the contents, hence there is no need to open the bags. Management, collection, transportation and destruction of all materials is compliant with the government's security industry standards. Clients receive a certificate of destruction upon completion. If you require more information about mobile shredding, contact Ministry of Shred.