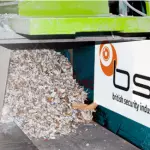 Mobile Shredding in Alderley Edge is a necessary service nowadays with instances of fraud on the rise. It is all too easy for the unscrupulous to use personal information such as identity numbers and bank account details for their own gain. Mobile shredding services are considered an added safety measure. If the disposal of unwanted documents concerns you, you should consider the services of a document shredding company. Ministry of Shred offer top quality shredding services.
In Alderley Edge, mobile shredding services are provided with a view to save you money and time. You know that paper shredding takes hours. It needs to be done with a small volume shredder and can take hours to completely shred a file of documents. With Ministry of Shred, it is as simple as ordering your security sack online. It will be delivered to your door within 2 working days. Once you have received your security sack – they provide you with a choice of sacks (the shred pack, triple-pack and the five-pack) which come with a 'fill line'. You can fill the sack to up to the fill line and seal it securely. The bags are shredded without ever being opened. The volume and nature of documents may vary across individuals, simply contact Ministry of Shred to discuss your requirements.
Mobile shredding in Alderley Edge is proudly offered by Ministry of Shred. After you have booked your collection date, their drivers, showing their identity tags, will collect your sealed sack from you. Once your sealed sack is collected and deposited into their onsite shredder and shredded, you will receive a certificate of destruction to prove the documents have been thoroughly shredded. This certificate is emailed to you. All their staff have been security screened to the British standards, ensuring peace of mind that your documents are in safe hands. For professional and secure mobile shredding, contact Ministry of Shred.