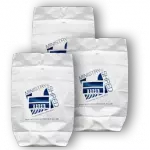 If you have unwanted information in files and documents and need to home shred it in Stockport, then you should get in touch with a professional company so that they can destroy all the important documents correctly. The shredding machines we have at our homes are unable to handle a large volume of shredding at a single time and so it is best to acquire the services of a company like Ministry of Shred. All you need to do is go online and order a security sack. After you submit your order, a recyclable security sack as well as a security tag will be sent to you. You just need to fill the sack and seal it with the provided security tag. They will shred the whole sack containing all of the documents that you placed inside it.
In Stockport, to home shred it becomes difficult with the large volume of unneeded documents we seem to accumulate. One of the most efficient ways of getting rid of documents that you don't need any more is to arrange a collection with Ministry of Shred. Ministry of Shred can also pick up the documents personally from your location and destroy them. All of their staff is hired after a thorough background check according to British Standards. The vehicles that they use for transportation have a tracker installed in them so that the movement of your important documents can be monitored. When the documents are picked up by them, the sacks are not opened and are placed in the shredder and destroyed. Once all the documents are shredded, you will receive an email containing a certificate that will confirm that your documents have been destroyed.
To home shred it in Stockport can become so much easier with Ministry of Shred. They can make sure that your documents are managed, collected and transported to their factory safely where they can be destroyed according to the proper standards. If you would like to home shred it, then contact Ministry of Shred.