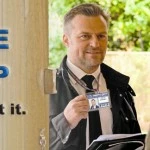 One of the most important things to know about mobile shredding in Prestbury is that the security and safety of personal documents has to be your utmost priority. There are two kinds of shredding process,  the first is where you have a company come to you, pack your stuff up for you and take it to their site for destruction. At their site, they take all your documents out of their truck and shove it into the shredding machine – job done! But wait, there's a lot that can go wrong during that process and if you are not careful, you may end up compromising the safety and security of those documents. Well, the first situation where things can go wrong is the moment when the documents are collected. That is when the shredding company employees are handling your documents and if someone wanted to do some misdeeds, they could do it right now.
In Prestbury, mobile shredding can pose another major threat. This would be the point where your documents are taken out of the transport vehicle and shoved into the shredding machine. Again, this happens off-site and so, you have little control over the process. This is the second point where your documents would be handled directly by the employees of the shredding company and so, that's a second point where the safety and security of your documentation is jeopardised. The safer alternative would be to use the services of Ministry of Shred.
Ministry of Shred is known for taking mobile shredding in Prestbury to the next level by transforming the way in which the process is carried out. First, you order the company's shred-sacks. All you need to do is place your documents in these sacks and seal them with the security tag you are provided. Then, the sacks containing your documents are collected by uniformed staff with identification, where they are taken to the shredding site and shredded without being removed from the sack. This is a most effective and secure method for all shredding purposes. If you need secure mobile shredding services, contact Ministry of Shred.