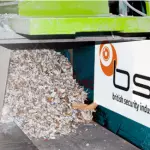 Home shredding in Bowdon provides privacy and security for homeowners who want to protect their personal identification numbers, bank accounts and other information which can be used against them. Identity thefts and frauds are rampant in the UK and one of the best ways for you to avoid this potentially damaging problem is to make sure that any documents that have vital information be shredded properly prior to disposal. Unfortunately, purchasing your own shredding machine is not practical for homeowners who only need to shred a few dozen documents each month. This is where shredding services come in handy as they are able to provide a more effective and practical means for homeowners to safely get rid of private documents without spending too much money.
In Bowdon, home shredding that is reliable, honest and cost efficient is available through Ministry of Shred. This company knows exactly how important document shredding is, with hundreds of thousands of individuals falling victim to frauds and thefts each year, and with damages reaching billions of pounds. The company aims to help people by offering a convenient and practical means to shred and dispose of vital documents and other similar papers, they make sure that as soon as you close the document containers, everything will go to the shredder without anyone seeing any of its contents. The company complies with the strict rules and guidelines specified by the UK government, giving present and future clients the assurance when it comes to the quality of the service that they provide.
Home shredding in Bowdon is easy with the help of Ministry of Shred. You can purchase shred sacks which can hold as much as 20 kilograms of documents and papers, and then you can contact the company for pickups where authorised personnel will be tasked to pick up the package and shred it for you. The company will provide a certificate of destruction verifying the completion of the shredding process and they also guarantee that the shredding done is able to meet with the British standards. For shred sack purchase, inquiries and for home shredding services, you can contact Ministry of Shred in the soonest time possible.