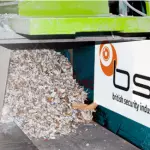 Do you know why it is important to opt for secure document shredding in Stockton Heath each time you have to get "rid" of personal or company information? Fraud. Nearly 100,000 people in the UK fall victim to identity theft and fraud each year. This costs the nation over 1 billion pounds per annum. Most of these victims report that they cannot even remember how someone was able to get access to their personal information. If you do not want to belong to such a statistic, then look for a reliable company that offers secure document shredding.
In Stockton Heath, Ministry of Shred is one company that customers can rely upon for secure document shredding. How does it work? Start by visiting the company online portal and ordering a security sack. After placing your order, a security tag and sack will be sent to the address you provided. Once you receive the bag, fill it up to the level line with all and any documents that you feel may expose you to identity theft. Next, seal the bag securely with a security tag that is provided. These bags are made so that they will be shredded and then recycled without ever being opened. Following suit, call or make an online booking to discuss your shredding requirements. If you opt for a collection, the company's drivers will arrive at your mentioned address carrying appropriate identification. Rest assured, all staff at Ministry of Shred are screened according to stringent British guidelines. After confirming your security tag's code, your sack will be transported in the security collection truck. Each truck is fitted tracking so that their movements can be monitored while returning to the shredding facility. When the truck arrives, it is backed directly into the plant and unloaded. All of your documents will be shredded according to the British Security Industry Association standard #EN15713. After your documents are shredded, a certificate will be emailed to you.
If you want to avoid identity theft then opt for secure document shredding in Stockton Heath, provided by Ministry of Shred. You know you are secure with Ministry of Shred. For more details about secure document shredding, contact Ministry of Shred.